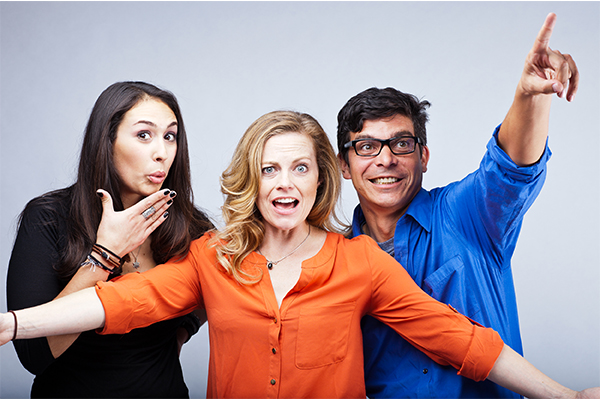 What is Happening This Week in Science? Find out with TWIS!
What IS happening this week in science??? It's often hard to keep up with the pace of new discoveries. But, that's where the This Week in Science (TWIS) podcast comes in! Prepare to laugh and learn while TWIS, the longest running, woman-run science podcast, entertains you with SCIENCE!
This Week in Science (TWIS) is a weekly web and radio talk-show presenting a humorous, often opinionated, and irreverent look at the week in science and technology. In each show, the hosts, Dr. Kiki Sanford (a neuroscientist), Justin Jackson (a car-salesman turned geneticist), and Blair Bazdarich (the zoologist), discuss the latest in cutting-edge science news on topics such as: genetic engineering, stem cells, human evolution, climate change, space exploration, neuroscience, microbiology, and show favorites – Countdown to World Robot Domination and Blair's Animal Corner.
Feed your curiosity about the world, and join the TWIS crew for this very special LIVE broadcast from the Alberta Rose Theater where we will be joined by nerdy musical guests, The PDX Broadsides! If you enjoy music by Jonathan Coulton, Ingrid Michaelson, Magnetic Zeroes, Karen Kilgariff, The Finches, Paul and Storm, and Barenaked Ladies, you are going to love the PDX Broadsides.
It will be a night of science, music, and fun… don't miss out!
This Science on Tap event is brought to you in partnership with Science Talk, a local organization dedicated to improving science communication and engagement.
Event Date

Wednesday, April 3, 2019

Start Time

7:00 pm Pacific

Tickets

Venue

Location

Available Food & Drink

Hand pies & pizza rolls, snacks, sweets, with a a full bar and a great selection non-alcoholic drinks, coffee and tea.

Accessibility Information

Vaccine cards required at Science on Tap events. Masks are highly recommended, but not required. Visit

the Alberta Rose COVID safety policies page

for more information.

There are no stairs to enter the theater. There is ramp down to seating area and wheelchair space in the front.