Amanda Thomas, Mistress of Ceremonies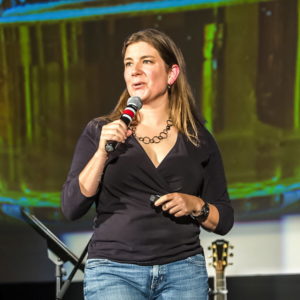 Via Productions is owned and operated by Amanda Thomas, purveyor of fine science entertainment. Despite a liberal arts education and degree in Art History, after ten years in adult education (seven of them at a science museum) she has fully developed her inner science geek and gotten some interesting experience with trebuchets, flaming magnesium, and exploding ping pong balls.
After realizing that adults like to learn about science just as much as kids do, and capitalizing on the fact that Portland has more breweries than any city in the world, Amanda started the Science Pub in August 2006. The Science Pub thrived under Amanda's direction for more than 6 years and 225+ events, and had a positive effect on tens of thousands of attendees.
In early 2013, Amanda and her band of trusty Minions (without whom none of this would happen!) branched out and created some new events, such as Nerd Nite, Science Sleepovers, and Science Behind the Scenes. The latest endeavor, Science on Tap, is essentially a science lecture with beer that happens once a month in both Portland, OR, and Vancouver, WA. She plans to continue running educational events for adults until there are no more speakers or the heat death of the universe…whichever comes first.
The Minions
There is a fantastic group of volunteers and friends, collectively known as "Minions." They help set up for events, staff the info table, sell merchandise, help clean up, and make sure the speakers are fed and beered. They cumulatively put in hundreds of hours per year and are some of the smartest, kindest, funniest, and most generous people we know. These events would NOT happen without them.
Scott Frey is just an ordinary guy with interests in photography, astronomy, geology, ecology and practical physics. By day, he supports Apple devices and is a Consulting Photographer, but on event nights, he turns into the Chief Minion, doing technical support on projectors and computers, and taking event photos. Oddly enough, he doesn't drink beer, but makes up for it with the dedication to attending All The Events with his camera in hand.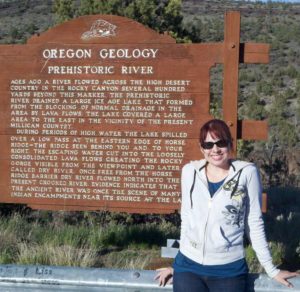 Ashley Miller joined the ranks of volunteers in 2010 and has since helped out in a variety of roles, from collecting donations to compiling feedback from evaluations. She's also a fantastic seamstress and we're hoping she'll show off the Star Trek costume she made at an event sometime soon.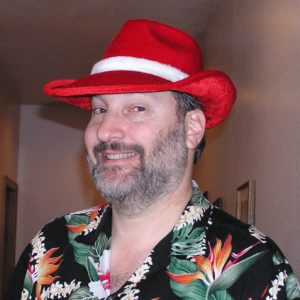 Sam Louke retired from a career of chemical engineering and management in the high tech industry. He first met Amanda volunteering at Science Pubs, where he was smitten by science education for adults. He's Top Minion (because he's the tallest) and volunteers his time at various events. His other hobby is musical performance and he plays trombone in several local bands and orchestras.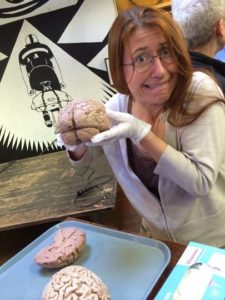 Rita Nygren managed to major in computer science and creative writing and minored in philosophy and took extra finance classes and picks up new software tools at work…she just likes to learn, and therefore attending science lectures and trips are a natural fit. And manages to assist in logistics (ie, getting beer to the speakers), customer relations, wild ideas for new topics and is one of the folks wandering the audience with a microphone looking for attendee questions.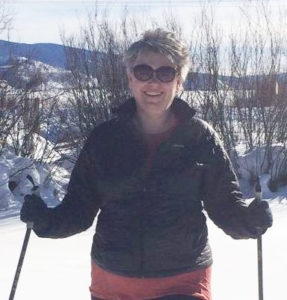 Antje Spethmann likes all things science, especially learning new things. She also just happens to know enough about PR and marketing to make her dangerous — but helpful nonetheless. Eventually, she'll even get the staff at Oregonian Media to like her. And, every once in a while, she will gladly take your plastic in exchange for a memorable experience and the ton of new facts you'll learn. She only moved back to Portland a year ago, but she's been dedicated to drinking in the lectures ever since.

A veteran of over 150 events, Chris Trone attended his first Science Pub in 2008 while finishing his degree in engineering. The concept of openly consuming a beer while listening to a professor struck a chord and he just kept showing up. Since then Chris has supported events in 7 venues volunteering in nearly every capacity, including playing host onstage that one time when the projector blew up.
Want to become a Minion? Write to us!